If you need respiratory protection program assistance discussed in this article call us at 973-366-4660 or email us at info@atlenv.com for details and a free estimate.
November 7, 2018, Updated November 14, 2019
Written by Robert E. Sheriff, CIH, CSP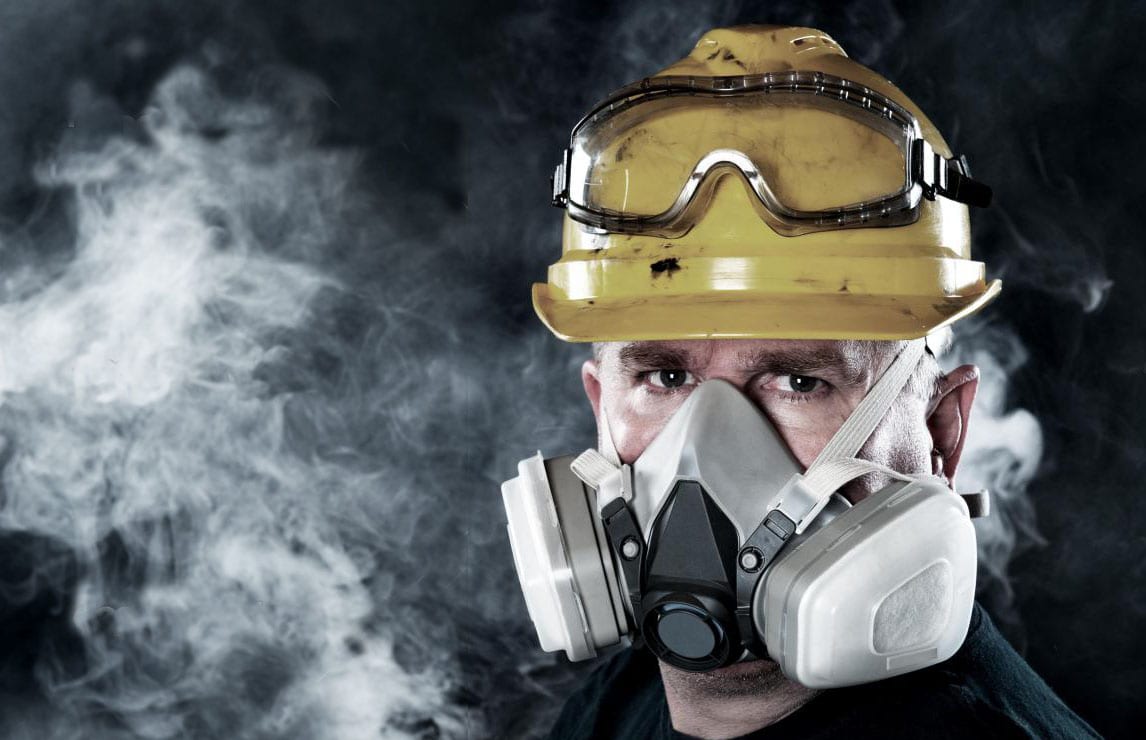 Many think that getting a respirator fit test is all that is needed. Unfortunately, it's much more than that.
Osha Respiratory Protection Standard
The OSHA Respiratory Protection Standard 29 CFR 1910.134 has many requirements in addition to respirator fit testing.
If respirators are worn by any employees, companies must have a written Respiratory Protection Program. The one exception is if the only respirators in use are those voluntarily worn by employees, then a written program is not required. But the OSHA standard still includes an Appendix D with mandatory instructions for employees wearing respirators on a voluntary basis.
A Respiratory Protection Program has 9 indispensable requirements to be OSHA compliant:
1. Air Monitoring
Employers must monitor worker exposure to the agents that the respirator is intended to control – whether they are contaminants or oxygen-deficient air. This can include air monitoring or personal monitoring. This is accomplished by actually placing an air sampler on the worker while they are performing the task involved. This step is often overlooked and can result in an OSHA citation—an expensive one! The cost for monitoring is minimal compared with the cost of a citation and forms the basis of the accuracy and appropriateness of the entire respiratory protection program (a typical citation for not monitoring cost about $12,000).
2. Respirator Selection
The respirator must be selected by a qualified person, who OSHA refers to as "a competent person" such as an Industrial Hygienist, Safety Specialist, or person trained in respiratory protection. The selection is based on the type of contaminants, length of exposure time, and type of work involved. Now all respirators have a length of use requirement based on the air sampling discussed in Step 1.
3. Employee Physicals
If a person could be required to wear a respirator, they must be given a medical examination and medical history questionnaire to determine if they are capable of wearing a respirator. Once they are cleared by a physician, the employee can be given a respirator fit test.
4. Type of Fit Test
The actual fit test can vary based on the type of respirator and type of expected exposure: — Qualitative Fit Test – A pass/fail fit test using irritant smoke or banana oil, or similar test agent to assess if the respirator fit is acceptable. Usually used for half-face respirators. — Quantitative Fit Test – An assessment of a respirator's fit by a numeric measurement of the amount of leakage into a respirator while being worn by the worker. Usually required for a full-face respirator or a supplied air respirator.
SPECIAL NOTE: APPENDIX A (MANDATORY) STATEMENT ON FACIAL HAIR
"9. The test shall not be conducted if there is any hair growth between the skin and the facepiece sealing surface, such as stubble, hair growth, beard, mustache or sideburns which cross the respirator sealing surfaces"
5. Training
When given a respirator fit test, the person using the respirator must also receive formal training in: — Proper wearing of a respirator — Proper inspection of a respirator — Proper cleaning and storage of a respirator — Means of determining when a respirator needs to be replaced — Means of determining when filters need to be replaced — Determining appropriate fit test – qualitative or quantitative
6. Annual Fit Testing and Re-Training
If there are no changes in the workplace or respirator or in the physical condition of the wearer, annual fit testing and re-training are required. In the event there are changes in the user's physical condition that could affect respirator fit (e.g., facial scarring, dental changes, or an obvious change in body weight), an additional fit test is required.
7. Recordkeeping
Usually the responsibility of the company's Human Resources department, record keeping must be complete to evidence each employee's medical tests, fit testing and training.
8. Responsible Parties
The program must identify responsible persons and competent persons for the Respiratory Protection Program. The responsible persons must be trained and proven to be qualified and knowledgeable in respiratory protection to administer all aspects of the program.
9. Voluntary Use
Employers must provide Appendix D (29 CFR 1910.134 Appendix D) to employees using respirators when not required under the standard. The employer is also responsible for ensuring that any employee using a respirator voluntarily is medically fit to use that respirator and that the respirator is maintained properly. It may take a qualified person to determine if the voluntary respirator use will actually be effective in controlling the exposure to the chemical or particulate of concern.
For more information and a free proposal, contact us at 973-366-4660, email to info@atlenv.com or use the Atlantic Environmental contact form.
Our primary service areas are: NJ, NY, NYC, PA, CT, DE, (Boston) MA, RI, Wash DC, WI, MD, MI, (Chicago) IL, VA, IN, (Atlanta) GA, AL, NC, SC, TN, (Dallas, Ft Worth) TX, OK, DC, AR. We can service most other areas of the U.S. but with some added travel charges.