Noise Testing/Sampling, Hearing Conservation Programs, and Training Services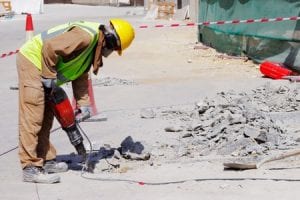 If you need noise testing/sampling, noise dosimetry surveys and comprehensive Hearing Conservation Programs, including training and noise reduction consultation to comply with the OSHA Noise Standard 29 CFR 1910.95 as discussed in this information page call us at 973-366-4660 or email us at info@atlenv.com for details and a free estimate.
The OSHA Noise Standard requires any facility where worker noise exposure equals or exceeds 85 dB-A to implement a Hearing Conservation Program. Where noise levels equal or exceed 90 dB-A, hearing protection is mandatory as well as mandatory noise reduction efforts.  Our professionals have over 40 years of experience in dealing with noise and hearing conservation in commercial and industrial settings. In this age of personal electronic devices, hearing loss is becoming increasingly prevalent. Unless employers engage in proactive noise assessment such as a noise survey, noise control and Hearing Conservation Programs, employees may be able to turn hearing loss from personal habits into an occupational issue, with legal and financial ramifications for employers.
Noise Surveys
Sample Noise Map
Noise Dosimetry is the appropriate method of determining workers noise exposure levels as well as determining the employer's compliance with the OSHA Noise Standard (29 CFR 1910.95.) compliance.
A small noise meter is actually worn by the worker for a work shift.  This noise dosimeter takes a sound measurement – usually at 1/2 to 1 second interval's and accumulates the data over the work shift.  The results are then compared to the OSHA Exposure Limits.
As part of our on-site noise surveys, we provide a "noise map", usually on a floor plan, to identify areas that may exceed the 85 dB-A Hearing Conservation Action Level or the 90 dB-A Compliance Level. This includes octave band analysis of noise sources for appropriate engineering control or hearing protection options.
As per OSHA requirements, we identify at-risk job categories and provide personal noise dosimetry surveys to determine employee noise exposure as these employees move about their work area. This is crucial since noise levels vary between areas.
Hearing Conservation Programs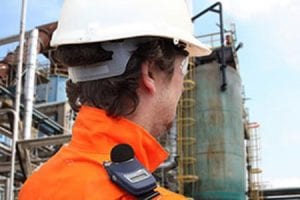 We develop OSHA compliant written Hearing Conservation Programs. When appropriate, our specialists will counsel individuals with a Standard Threshold Shift (STS) and provide all needed education and training on OSHA regulations, hearing protection, and noise reduction methods.
Our Industrial Hygienists can assist in defining noise reduction options. In addition, we can provide qualified specialists in acoustical engineering, noise reduction for equipment, and commentary noise requirements.  We can assist in identifying noise control equipment that will reduce worker noise exposure.
Protect your business and your future from unnecessary and costly legal actions due to noise. Contact us today at 973-366-4660 or info@atlenv.com to discuss your unique needs and obtain a complimentary, no obligation quotation for noise testing services.