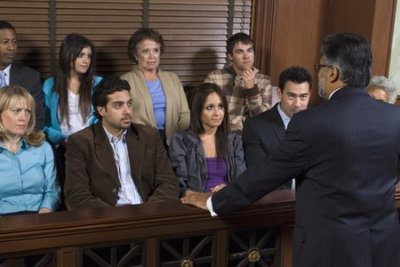 If you need an Expert witness and litigation support assistance, call us at 973-366-4660 or email us at info@atlenv.com for details and a free estimate.
Expert witness and litigation support for asbestos personal injury (defense).  Industrial hygiene, indoor air quality mold, and workers compensation claims.
Atlantic Environmental Incorporated has provided expert witness and litigation support services on Environmental, Industrial Hygiene,  and Safety issues throughout its entire 40-year existence.  We offer the ability to translate highly technical, scientific information into real and practical terms.  Each Expert has had substantial experience in trial appearances, depositions, and expert reports. We interpret technical information to assist the attorney in providing the best legal advice and direction on pursuing or settling litigation associated with chemical, biological, and environmental exposures including:
Asbestos Personal Injury (Defense)
Industrial Hygiene
Occupational Disease
Indoor Air Quality
Environmental Claims and Mold Claims
Chemical Toxicity
Toxic Torts
Chemical Spills
Property Assessments and Testing
Hazardous Waste
Pollution and Contamination
Phase I and Phase II Environmental Site Assessments
Superfund
This includes assessing the possible association between chemicals and specific diseases, as well as re-creating exposure scenarios from historical records or data.  We have acted as experts in litigation for such issues as chemical exposure, asbestos, solvents, benzene, lead, PCBs, mold, and other environmental issues.  We have provided these services to such firms as:
Kent & McBride | Wilmington, DE
Woodard, Hall & Primm | Houston, TX
Abrams, Scott & Bickley | Houston, TX
Nelson, Mullins, Riley & Scarborough | Columbia, SC
McElroy, Deutsch & Mulvaney | Morristown, NJ
Lavin, O'Neill, Ricci, Cedrone & DiSipio | Philadelphia, PA
Anderson, Kill | New York, NY
Montgomery McCracken, et. al. | Philadelphia, PA
Levinson, Axelrod | Edison, NJ
Crivello, Carlson, SC | Milwaukee, WI
Marshall Denehy | Philadelphia, PA, Pittsburgh, PA
Abbott, Simses & Kuchler | New Orleans, LA
Imai, Tadlock | San Francisco, CA
Steptoe & Johnson, PLLC | Charleston, WV
Smith Amundsen | Chicago, IL
Hinshaw & Culbertson | Milwaukee, WI
LeBas Law Offices | Lafayette, LA
Offit Kurman | Philadelphia, PA
Goodell, Devries, Leech & Dann | Baltimore, MD
Morgan, Lewis & Bockius | Philadelphia, PA
McGivney & Kluger | New York, NY
Hawkins & Parnell | Atlanta, GA
Swanson, Martin & Bell, LLP | Chicago, IL
Browning, Kaleczyc, Berry & Hoven | Helena, MT
Edwards, Wildman & Palmer | Morristown, NJ
Gislason & Hunter | Minneapolis, MN
Budd Larner | Short Hills, NJ
Dubyak, Connick, Samson, Thompson & Bloom | Cleveland, OH
Simon Peragine Smith & Redfearn, LLP | New Orleans, LA
Tomsche Sonnesyn & Tomsche, PA | Golden Valley, MN
Bonezzi Switzer Polito & Hupp Co. LPA | Cleveland, OH
Brown Law Firm | Billings, MT
Hammer, Quinn & Shaw PLLC | Kalispell, MT
Melick & Porter, LLP | Boston, MA
We have assisted both plaintiffs and defendants in furthering their positions.
Contact Robert E. Sheriff directly at 973-366-4660, use our contact form or send us an e-mail: info@atlenv.com to discuss any expert witness and specific litigation needs.  We will be open and candid as to whether we can be of benefit to you and your clients.
Our Experts
Frederick M. Toca, Ph.D., CIH, CSP, Senior Consultant
Dr. Toca is one of the most recognized individuals in Industrial Hygiene, Safety, and Environmental Management in the United States.  Dr. Toca has more than 40 years of experience directing and managing programs and acting as the principal technical specialist in Industrial Hygiene, Occupational Safety, and Environmental Sciences.
Dr. Toca is the former Director of Occupational Safety and Health for Hoechst Celanese, the former Director of Industrial Hygiene Safety and Compliance for USX Corporation (U.S. Steel), and the former Manager of Environmental Protection for General Electric Company, Plastics Division.  Dr. Toca has also held director-level positions in Tenneco Chemicals and Gulf Oil.  He has also served as a staff member of the Los Alamos Scientific Laboratory.
Dr. Toca is a Past President of the 12,000 member American Industrial Hygiene Association (AIHA).  He is the co-author of the 1996 book titled, "Management of People and Programs in Industrial Hygiene."  He is the past Chair of the Chemical Manufacturing Association's Committee on Environment, Health, Safety, and Operations Oversight Committee.  Dr. Toca has authored a variety of research and management publications in Chemistry, Industrial Hygiene, Safety, and Management and is an experienced and accomplished public speaker and lecturer.
Dr. Toca is available as an expert in a wide variety of health, safety, and environmental subjects including chemical exposure, toxicology, regulatory interpretation, expert testimony on pending or proposed legislation, and standards of good and responsible practice.
Robert E. Sheriff, MS, CIH, CSP, CEO, and President
Mr. Sheriff is a graduate of the University of Iowa with a Master of Science Degree in Preventive Medicine and Environmental Health.  He also served as a U.S. Army Officer, and is a Certified Industrial Hygienist (1974), and Certified Safety Professional (1975).  Before he founded Atlantic Environmental, Inc. in 1978, Mr. Sheriff was the Corporate Manager of Safety, Health, and Environment for Sun Chemical Corporation. Prior to this, Mr. Sheriff held positions in the Loss Control Department of Continental Insurance and technical positions with Libby Foods and the Iowa Water Pollution Control Commission.
Mr. Sheriff served as President of the 12,000 member American Industrial Hygiene Association (AIHA) in 1991/92. Mr. Sheriff is widely known and is a respected environmental professional.
Mr. Sheriff's experience includes acting as a qualified expert in federal, state, and Workers' Compensation jurisdictions. These activities have included depositions and testimony related to asbestos exposure safety, industrial hygiene, EPA, and OSHA regulatory requirements. His expertise includes recreating past exposure and pollution situations and drawing expert conclusions from the information available as to whether a profession, task, or location increased the risk of contracting a disease or injury.
Henry P. Shotwell, Ph.D., CIH, Senior Consultant
MS – Biomedical Sciences
BS – Biology and Chemistry
Former Director, Industrial Hygiene and Safety – Environmental Waste Management Associates
Former Industrial Hygienist and Safety Controller – Shotwell Associates
Former Manager, Health and Environmental Safety – Sun Chemical Corporation
Former Corporate Manager of Industrial Hygiene Safety Specialist – American Cyanamid Corporation
Adjunct Professor – Fairleigh Dickinson University, Madison, New Jersey
Dr. Shotwell has more than 40 years of experience in industrial hygiene, toxicology, clinical chemistry, microbiology, and safety engineering.  He has extensive clinical research experience gained at Yale Arbovirus Research Unit (a combined effort of Yale University School of Medicine, World Health Organization, and the Rockefeller Institute).  Dr. Shotwell gained broad industry experience in biological monitoring, industrial hygiene, chemistry, noise, radiation monitoring, indoor air quality, and systems safety engineering with Olin Corporation, American Cyanamid Corporation, and Sun Chemical Corporation.  Dr. Shotwell has provided litigation support in mold and indoor air quality cases and has evaluated exposures to volatile organic chemicals through mathematical modeling.  His experience with industrial chemicals includes solvents, pesticides, dyes, plastics, and various organics and inorganics.
Dr. Shotwell teaches a course in toxicology for the Environmental and Occupational Health and Safety Institute of the University of Medicine and Dentistry of New Jersey.  He has served twice as the Chair of the American Industrial Hygiene Association's Biological Monitoring Committee and three times as Chair of the Ionizing Radiation Committee.
Dr. Shotwell is a recognized expert in indoor air quality, mold and mold remediation, industrial hygiene, noise and noise control, and ionizing/non-ionizing radiation.  He has conducted field surveys, trained practitioners, developed expert opinions, given a deposition, and has appeared in court as an expert witness.
Allen M. Chung, Ch.E., CIH, Senior Environmental Consultant
BS – Chemical Engineering
Former U.S. Army CBRN (Chemical, Biological, Radiological, Nuclear) Specialist
Branch Specialist in Indoor Air Quality, Mold, and Industrial Hygiene
Mr. Chung is a Field Specialist with special knowledge in local exhaust ventilation and chemical exposure.  Mr. Chung is also qualified as a 40-hour HAZWOPER Site Supervisor.
Howard J. Cohen, Ph.D., CIH
Dr. Cohen is a Professor and Chair of the University of New Haven's Occupational Safety and Health Program, where he has taught for the past 11 years.  Prior to this appointment,  he was the Manager of Industrial Hygiene for the Olin Corporation where he worked for 16 years.
Dr. Cohen is the former Editor-in-Chief of the American Industrial Hygiene Association and immediate past chair of the American National Standards Institute's Z88.2 committee on respiratory protection. He serves on two National Academy of Sciences committees on personal protective equipment.  He also serves on the Editorial Review Board for the Journal of Occupational and Environmental Hygiene.  Dr. Cohen has authored 20 peer-reviewed publications on a variety of subjects and several chapters of industrial hygiene textbooks.
Dr. Cohen is available as an expert in a wide variety of health, industrial hygiene, safety, and environmental subjects, including exposure assessment, respiratory protection, diesel exhaust, asbestos, and metalworking fluid.
Hamid Arabzadeh, CIH, CSP, CHMM, REA
Mr. Arabzadeh's specialties include Industrial Hygiene, Occupational Health, Indoor Air Quality (IAQ), microbial and mold assessments and remediation protocol development, retrospective exposure assessment studies and past exposure re-creation studies, expert witness and litigation support, crisis management, crisis prevention pre-planning and training, risk assessment and risk communication in industrial and community settings, ventilation assessment, Industrial Hygiene, safety engineering, environmental protection, environmental impact, health and safety site plan development, management systems, and compliance audits for EH&S programs. He also has extensive experience teaching industrial hygiene and EHS courses.
Mr. Arabzadeh holds an MS in Occupational Health and Safety and a BS in Industrial Technology Engineering (Manufacturing).
David McNamara, IH, CSP, CHMM
Mr. McNamara is a Texas Certified Mold Consultant with over 40 years of experience in the environmental, health, and safety fields. He has experience in risk management, hazardous waste management, Workers' Compensation, RCRA, CERCLA, and TSCA. He specializes in the industrial hygiene and safety aspects of lead, beryllium, and asbestos. For Atlantic Environmental Incorporated, Mr. McNamara focuses on mold remediation cases, Phase I ESA, program audits, and training. He previously worked as Corporate Manager of Safety and Health for Raytheon and Hughes Electronics.
For Curriculum Vitae, Rate Schedules, and Retainer Agreements contact us at 973-366-4660.