If you need respiratory protection services, including Respiratory Protection Programs, respirator selection, qualitative respirator fit testing, quantitative respirator fit testing and protection training assistance discussed in this information page call us at 973-366-4660 or email us at info@atlenv.com for details and a free estimate.
Respiratory Protection Programs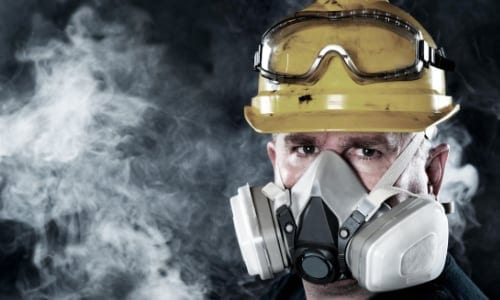 Respiratory Protection is a complex and many-faceted subject and the fourth most often standard cited by OSHA.  Protection program requirements include:
Respirator fit testing – (quantitative respirator fit testing and qualitative respirator fit testing)
A written Respiratory Protection Program
Monitoring of the workplace air to determine the concentration of air contaminants
A determination of the correct respiratory protection based on contaminant and concentration
Respiratory selection by a qualified person selecting only NIOSH approved respirators
A Respirator Training Program: Employee training on the use, care, inspection, cleaning and storage
Record-keeping requirements
The OSHA Respiratory Protection Standard (29 CFR1910.134) sets very specific criteria for compliance—and as mentioned above—it is the fourth (4th) most cited standard with each citation considered SERIOUS with a $12,000 fine.
We can provide all necessary elements to ensure both protection of your workers from materials/ chemicals in the workplace and compliance with the OSHA Respiratory Protection Standard.
A site-specific Respiratory Protection Program is often an essential element of a Health and Safety Plan (HASP) for Hazardous Waste Operations (HAZWOPER).  We can update existing plans, tailor plans to be site-specific, or write new plans.
Another critical element of protection is respirator selection and selection of the proper filters/cartridges based on the airborne concentration of regulated substances and the assigned protection factors for the various protection devices. Following is an example of Assigned Protection Factors, which are the work-place level of protection that a respirator is expected to provide to employees when the employer implements a continuing, effective respiratory protection program, including training, fit testing, maintenance, and use requirements (From OSHA)
Simple Respirator

Half Face Respirator

Full Face Respirator
Assigned Protection Factor Examples (APF)

We can perform either Qualitative or Quantitative respirator fit testing of any respirator or respirator facepiece.  This includes IDLH Supplied Air Respirators and Firefighter Respirators Face Pieces.
Further, we can perform the air testing required for Grade D breathing air that is provided to Type C airline respirators and SCBA Cylinders.
We can support your team before, during and after OSHA-Type audits of all aspects of respiratory protection, worker protection, written programs, training, respirator fit testing, industrial hygiene monitoring, and voluntary respiratory usage.
Our professionals also serve as an expert witness/litigation support resource for legal cases involving respirator protection and programs.
Respiratory Protection Program – Essential Elements for OSHA Compliance:
Employees must be monitored to determine their level of exposure to the contaminants the respirator is meant to shield. This can result in a costly OSHA citation if ignored.
The appropriate respirator must be selected by what OSHA considers a "competent person" – someone who has been trained adequately on the subject.
Employees must be given a medical examination (a physical) and medical history questionnaire if they are expected to perform the respirator required task for 30 days or more per year.
The type of fit test (qualitative or quantitative) must be determined by a competent person based on the class of respirator and expected contaminants.
The user must receive formal training on how to wear, inspect, clean, store and maintain a respirator.  This must be done annually.
Each year, the employee must be retested and retrained, even if there were no changes.
The employer must keep complete records for physicals, fit testing and training for up to 30 years.
The written Protection Program must identify responsible persons and competent persons.
To employees using respirators voluntarily, employers must provide 29 CFR 1910.134 Appendix D.
Contact us using our contact form, by phone at 973-366-4660 or info@atlenv.com to discuss your unique needs and obtain a complimentary, no obligation quotation for respiratory protection services tailored to your company's requirements.