If you need assistance with mold in your office making you sick as discussed in this article, call us at 973-366-4660 or e-mail us at info@atlenv.com for details and a free estimate.
Written by Robert E. Sheriff, MS, CIH, CSP, President
February 20, 2020
Mold In My Office is Making Me Sick
Mold is the single most important element affecting Indoor Air Quality (IAQ). It also can play a
significant role in what is termed "Sick Building Syndrome." The evidence of mold growth in a building is a musty odor or visible black mold, green or white colonies growing where high moisture, dampness or water are present. Low lying areas are most susceptible –basements, ground floors, along building exteriors. But walls or ceilings that house water pipes or ductwork may develop condensation and encourage mold growth.
When people go to work and start feeling such symptoms as dry throat, coughing, sore throat, nasal congestion, asthma, and they feel better when leaving work, one likely culprit is mold/mildew
Even though the term mold and mildew are used interchangeably, they are actually different but both have the ability to cause human ailments. Suffice it to say, the differences are not terribly important to the person in the office where there is evidence of mold/mildew. Both mold and mildew can show visible growth on surfaces and emit offensive odors and affect building occupants.
They thrive on organic materials which they can use as a food source. Locations, where heat and moisture have caused deterioration of those surfaces, making them ideal food sources encouraging rapid and extensive growth and propagation. That food can be foodstuffs, leather, cotton, wood, paper—especially sheetrock paper, and material latex (the latex from latex rubber trees—not petroleum latex). Solid items as rock, concrete, bricks, and metal are not sources of food for molds but dirt and debris can lodge in pores on these surfaces which can act as a food reservoir, then all is needed is moisture/water.
In order to grow, molds prefer warm temperatures 70-90°F but can grow in lower temperatures—even down to freezing, and higher temperatures — even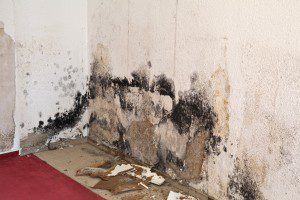 up to boilers. In an office environment, the 70-90°F is the temperature range of most molds found in an office environment. The final element needed for mold growth is moisture/humidity. The optimal range is about 60-90% relative humidity is ideal for mold to grow.
Humidity control in an office building is generally the best way to minimize or control mold/mildew.
The most likely places in an office where molds can find the best growth surface to settle upon and grow are:
Basements – Floors on the ground, walls touching dirt, exposed water, and heat piping.
Bathrooms – Around toilets, sinks, showers, walls that enclosed piping that may cause condensation.
Windows – Poorly draining sills, leaking frames, plugged weep holes.
Top Floor Ceilings – Roof leaks, overhead pipe condensate, roof drains. Condensate from air conditioning units, skylights.
Kitchen/Break Rooms – Sinks, cooking, exposed and wall interior piping, dishwashers, hot water heaters.
Symptoms of mold/mildew reactions are quite varied from individual to individual but most often they affect the respiratory system; sneezing, coughing, sore throat, asthma, respiratory distress, and some allergic reactions. Although claims of many other illnesses are attributed to mold, there is limited scientific evidence that cancers, mental disorders, memory loss are due to molds. Little evidence exists that the mycotoxins released by some molds are of such a concentration to affect anyone except the most medically challenged.
If mold is suspected or visibly evident, or there are moldy/musty odors in the office, the first step is to have the building tested by a qualified professional. The issue of Indoor Air Quality, Mold, and Sick Building Syndrome are complex are not easily identified and resolved except by an experienced Indoor Air Quality (IAQ) Specialist or Industrial Hygienist (IH or CIH).
For more information contact Atlantic Environmental.
Our primary service areas are New Jersey NJ, New York NY, (New York City), Pennsylvania PA, Connecticut CT, Delaware DE, Massachusetts, (Boston) MA, Rhode Island RI, Washington DC, Wisconsin WI, Maryland MD, Michigan MI, Illinois (Chicago) IL, Virginia VA, Indiana IN, Georgia (Atlanta) GA, Alabama AL, North Carolina NC, South Carolina SC, Tennessee TN, Texas (Dallas, Ft Worth) TX, Oklahoma OK, DC, Arkansas AR, Florida FL. We can service most other areas of the U.S. but with some added travel charges.