If you need an evaluation of worker health hazard exposures as discussed in this article call us at 973-366-4660 or email us at info@atlenv.com for details and a free estimate.
Written by Robert E. Sheriff, MS, CIH, CSP, President
October 4, 2018, Updated September 2019
Hazardous Waste Disposal & Exposure
A great majority of municipalities and private companies in the United States have recycling facilities where metal, glass, chemicals, paper, wood, batteries, electronics, and clothing are deposited from collection trucks and sorted by workers, usually along conveyor belts. The workers in these facilities are potentially exposed to a wide variety of health hazards.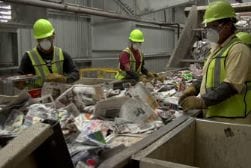 One health hazard arises from both the trucks depositing recyclables and the front loaders depositing them onto sorting platforms. Noise, carbon monoxide, and diesel exhaust are common exposures from such vehicles. The fact that diesel exhaust is now considered a carcinogen adds further health risk to workers.
The persons involved in sorting the recyclables are subjected to a great variety of health risks. There is always a considerable quantity of fecal matter from pets whose waste is collected during exercise and then deposited in the nearest container—often which is a recycling container, not a waste container. The bacteria present can lead to infection, disease, and even E-coli poisoning. Speaking of poisoning, the recycled bottles of pesticides, household chemicals, paint thinners, hair care products containing formaldehyde, spoiled food, drain cleaners, light bulbs containing mercury, and a host of germs on tissues and other paper products, set the stage for a variety of health hazards.
The compressor/boiler produces noise that often exceeds the OSHA Noise Regulations (SEE29CFR1910.92) at www.osha.gov.
Hazardous Waste Protection
Some form of body protection such as disposable suits, gloves, and even respirators is common. But the most likely situation is the inadequacy of protection. For example, in numerous recycling facilities, respiratory protection is a surgical mask—whose purpose is to prevent the wearer from spreading the disease to others, not to protect the wearer from external agents.

Private contractors who take municipal recyclables and sort them have an even greater range of exposure possibilities, mostly depending on how conscientious the owners/operators are at providing a safe and healthful work environment. They range from automated grinding and sorting to conveyor belts lined with workers wearing coveralls and latex gloves.
Proper environmental and worker protection in dealing with recyclables is as complex as dealing with the proper manufacture and safe use of such items.  We are specialists in PRODUCT STEWARDSHIP from raw materials to manufacturing, packaging, shipping, usage, and disposal or recycling and can determine if workers are exposed to health hazards and the protection necessary to prevent adverse exposures.
Recycling Safety
We have the knowledge and equipment to evaluate any phase of the life cycle of products and materials and develop ways to correct each environmental, health or safety problem for the benefit of all parties involved in the recycling to the benefit of energy conservation.
Contact us today using our contact form or call us at 973-366-4660 to discuss your unique needs and obtain a complimentary, no-obligation quotation for recycling facilities safety environmental services tailored to your company's requirements.
Our primary service areas for Product Stewardship Services are: NJ, NY, NYC, PA, CT, DE, (Boston) MA, RI, Wash DC, WI, MD, MI, (Chicago) IL, VA, IN, (Atlanta) GA, AL, NC, SC, TN, (Dallas, Ft Worth) TX, OK, DC, AR, we can service most other areas of the U.S. but with some added travel charges.