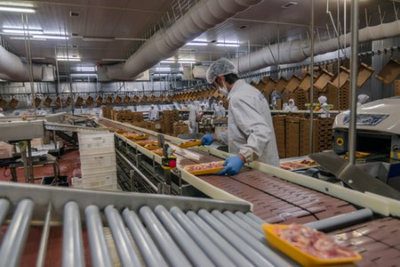 If you need assistance with worker safety and health as discussed in this article call us at 973-366-4660 or email us at info@atlenv.com for details and a free estimate.
Written by Robert E. Sheriff, MS, CIH, CSP, President
November 12, 2018, Updated September 2019
OSHA Initiates Program Targeting Chicken Processing Facilities
OSHA has initiated an emphasis program on chicken processing facilities in Alabama, Florida, Georgia, Mississippi, Arkansas, Louisiana, Oklahoma, and Texas because workers are twice likely to incur serious injuries and six times more likely to get sick than other workers. The program began on October 26, 2015, with a combination of inspections and outreach activities. They plan to allow 3 months (to the end of January 2016) to achieve compliance before they begin inspections with citations.  Although the employer's program is no longer in effect, the allowance to increase production rates in 2018 has increased the potential for injuries to workers in chicken processing facilities.
Issues at such facilities involve cuts, noise, sprains, strains, back injuries, fluid splashes in eyes and illnesses including respiratory illnesses and infections. OSHA has an information page at https://www.osha.gov/Publications/OSHA3959.pdf "Safe Work Practice in Poultry Processing" (2018 Publication).  Also, OSHA provides technical information on Hazards in Poultry Processing.
We can assist in providing safety, health and ergonomic consulting services for poultry processing facilities.
Contact us today using our contact form or call us at 973-366-4660 to discuss your unique needs and obtain a complimentary, no-obligation quotation for environmental services tailored to your company's requirements.
Our primary service areas are: NJ, NY, NYC, PA, CT, DE, (Boston) MA, RI, Wash DC, WI, MD, MI, (Chicago) IL, VA, IN, (Atlanta) GA, AL, NC, SC, TN, (Dallas, Ft Worth) TX, OK, DC, AR. We can service most other areas of the U.S. but with some added travel charges.